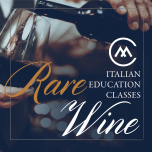 Rare Wine Tasting 3-23 – Cancelled
Italian Education Classes
Ruchè di Castagnole Monferrato -DOCG
Learn all about this rare wine with Ellie our in-house sommelier.
Pairing – Cheese Trio with Taleggio, Bra Durro
Take Home Gift – Recipe: Gorgonzola & Porcini Risotto
"Rare" Factor
A wine made rare by the fact that worldwide, the ruchè grape is grown ONLY in the Piemonte region in Italy. It is also a DOCG standard, one of only 75 wines in Italy. It is an intensely aromatic wine with a distinct style.
About this event
Participants will enjoy a hand-picked pairing to complement each wine along with instruction on how to pair for a full cooking experience based on the styles of the particular region the wine is from. The educational class will also provide a small gift to add to your Italian cooking collection.
Due to the rarity of these wines, only at the time of the educational class will attendees have the opportunity to purchase these wines.