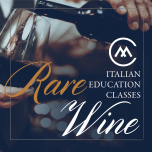 Rare Wine Tasting 4-20
Italian Education Classes
Belpoggio Di Paolo Rosso – IGT
Learn all about this rare wine with Ellie our in-house sommelier.
Pairing – Tuscan Cheese Trio
Take Home Gift – Recipe: Frittata di Zoccole
"Rare" Factor
Typically, the ciliegiolo grape of Tuscany is a blend partner to other reds, but not in this feature! It stands beautifully alone, making this a rare wine from Tuscany with a unique and wonderfully light style
About this event
Participants will enjoy a hand-picked pairing to complement each wine along with instruction on how to pair for a full cooking experience based on the styles of the particular region the wine is from. The educational class will also provide a small gift to add to your Italian cooking collection.
Due to the rarity of these wines, only at the time of the educational class will attendees have the opportunity to purchase these wines.