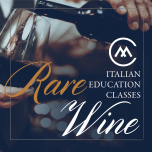 Rare Wine Tasting 4-6
Italian Education Classes
Lacryma Christi del Vesuvio Bianco – DOC
Learn all about this rare wine with Ellie our in-house sommelier.
Pairing – Shrimp Cocktail Bite
Take Home Gift – Recipe: Lemon Seafood Risotto
"Rare" Factor
Come hear the stories and learn about the legend behind this rare style of wine. Coda di
Volpe Bianca means "Tail of the Fox" thus named for the shape of the cluster resembling
a fox's tail.
About this event
Participants will enjoy a hand-picked pairing to complement each wine along with instruction on how to pair for a full cooking experience based on the styles of the particular region the wine is from. The educational class will also provide a small gift to add to your Italian cooking collection.
Due to the rarity of these wines, only at the time of the educational class will attendees have the opportunity to purchase these wines.